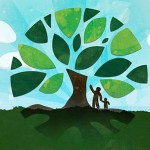 Family Hui …
Supports parents/caregivers through community-based family groups facilitated by trained peer leaders;
Encourages parents and caregivers in an atmosphere of mutual respect to raise their children with loving guidance;
Empowers parents/caregivers by sharing experiences, knowledge, and community resources.
12-week Positive Parenting groups with trained peer facilitators
The Family Hui Handbook filled with wisdom and information to support you and your family
Family resource referrals and materials
Parenting tips and updates on advances in childhood development
Parent Education Workshops, including educational lectures by guest speakers (TBA)
Quarterly parent-child Interactive Play Days at which children learn through peer play and play with parent/caregivers, and parents/caregivers bond with and learn from each other
An opportunity for you and your child to make friends and create a caring community
Family Hui builds and expands on the very successful Hawai'i based Baby Hui program, which served Hawai'i's families for over 30 years. Joan Kreeger, a social worker with the Hawai'i State Department of Health and Lea Ann Mitchell, a member of the Junior League of Honolulu founded the former Baby Hui in 1982. Family Hui updated the program materials, expanded the program to serve families with children 0-5, and incorporated a school readiness component.
Family Hui is a program of Lead4Tomorrow, a non-profit 501(c)3 organization empowering leaders today for a better tomorrow. Learn more at: www.lead4tomorrow.org