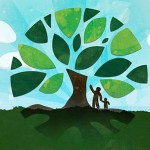 Family Hui …
Supports parents/caregivers through community-based family groups facilitated by trained peer leaders;
Encourages parents and caregivers in an atmosphere of mutual respect to raise their children with loving guidance;
Empowers parents/caregivers by sharing experiences, knowledge, and community resources.
12-week positive parenting groups with trained peer facilitators;
The Family Hui Handbook filled with wisdom and information to support you and your family;
Family resource referrals and materials;
Parenting tips and updates on advances in childhood development;
An opportunity for you and your child to make friends and create a caring community.
Family Hui builds and expands on the very successful Hawai'i based Baby Hui program, which served Hawai'i's families for over 30 years. Joan Kreeger, a social worker with the Hawai'i State Department of Health, and Lea Ann Mitchell, a member of the Junior League of Honolulu, founded the former Baby Hui in 1982. Family Hui updated the program materials, expanded the program to serve families with children 0-5, and incorporated a school readiness component.
Family Hui is a program of Lead4Tomorrow, a non-profit 501(c)3 organization empowering leaders today for a better tomorrow.
Get in touch with our team here, or reach out to us at info@familyhui.org.